Whether you're a longtime fan of the comics or a new member of the coven via the Netflix series, theories are essential to some of the Chilling Adventures of Sabrina's biggest mysteries. Who is Sabrina Spellman, really? Will we ever see her dad, Edward, in the flesh? Below, some of the most likely conspiracies to memorize and recite (with candles meticulously laid out on your bedroom floor) before the show returns for a second season in April 2019:
1. Sabrina is a twin.
In the pilot episode, Sabrina has a vision of her parents cooing over two babies: one human, one half-human with hooves.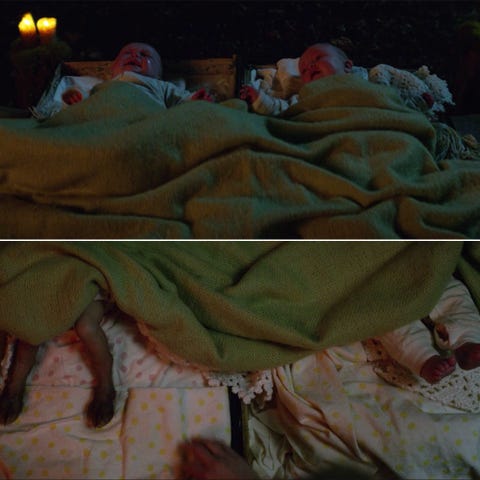 As fans have pointed out on Reddit, this could just be a throwback to Sabrina the Teenage Witch, which toyed with the "Spellman secret"—that every Spellman has an evil twin—over multiple seasons. In season three, Sabrina's evil twin is revealed to be Katrina, who lives in South Dakota…and is subsequently sent to prison in the Other Realm for being horrible.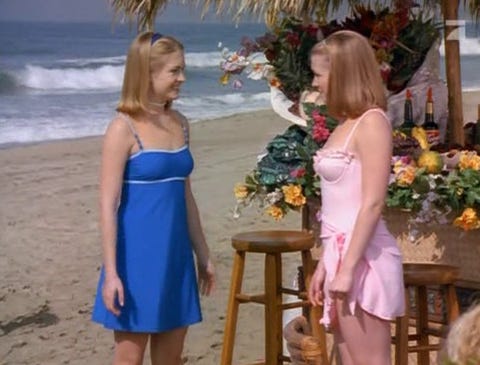 With the events of the season one finale, the twin theme is not forgotten: Father Blackwood becomes a father to twins and is told that the baby girl has been consumed by the boy when, in fact, Zelda has kidnapped the daughter for her safety. In the Christmas episode, Zelda decides to send baby Leticia to another witch as things have become too complicated and dangerous in Greendale.
2. Nicholas Scratch is the devil.
The devil has many, many names, one being "Old Nick" (wink, wink) and the other being "Mr. Scratch." The latter, as Polygon points out, has a connection to Daniel Webster, the lawyer who represented Sabrina in her trial against the Dark Lord in Chilling Adventures of Sabrina episode three, "The Trial of Sabrina Spellman." The source material here is The Devil and Daniel Webster, a short story from the 1930s about a farmer who sells his soul to the devil and is later defended by Webster. "Mr. Scratch" is what the devil calls himself.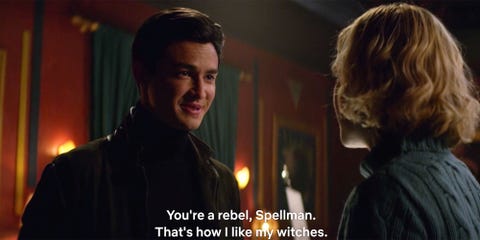 Over on Reddit, a lot of attention has been given to Nick's choir line ("me, a name, I call myself") and him telling Sabrina, "You're a rebel, Spellman. That's how I like my witches." If he's the devil, this possessive tone is totally on brand.
3. Sabrina's father, Edward, is alive and, more importantly, the Dark Lord.
This gets a little complicated, but as Reddit user winterfoxes explains in detail, all the free passes Sabrina has received in season one (all that Book of the Beast business, initially refusing to go to the Academy, the botched resurrection, to name a few) could be due to the fact that the Dark Lord is actually Edward Spellman.
Related: If Edward is alive and protecting/controlling his family from afar, this could also explain why Hilda still has her powers after being excommunicated for being a witness at Sabrina's Christian baptism.
If you believe Nick is the Devil, however, a close relationship to Edward could explain how easy it was for him to sneak out one of Edward's journals to help Sabrina.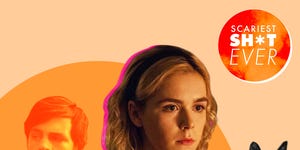 4. Harvey might die.

This is a stretch, considering the strong fan base for the show so far. In the comics, Harvey dies and is resurrected by Sabrina's father, Edward, who takes control over Harvey's body.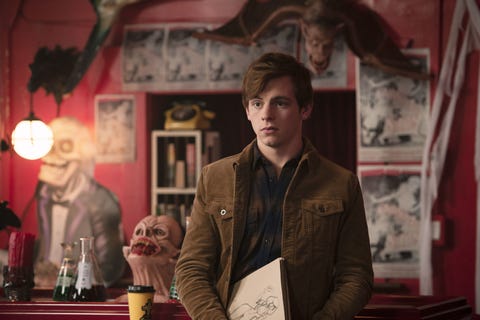 Season one already had a resurrection storyline with Harvey's brother Tommy, which didn't go very well, so perhaps this element of the comics has been played out.
5. If Sabrina and Riverdale ever have a true crossover (sorry, Ben Button), it will be through familiars.
Eagle-eyed Reddit user artdeco links Riverdale episode "Chapter Twenty: Tales from the Darkside" and Sabrina episode "Chapter Seven: Feast of Feasts" via the scenes involving deers.
Recall: Farmer McGinty picks up Jughead to take him to Greendale, warning both him and Archie not to look under the tarp in the back of his truck. What's hidden underneath turns out to be a dead, bloody deer, which Archie appears to see later crossing the road.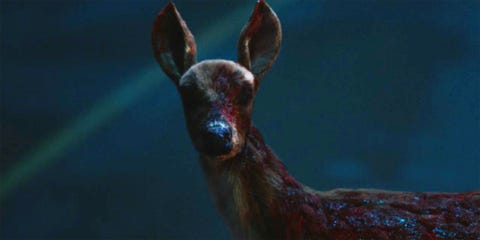 In CAOS, the deer (which turned out to be a familiar) killed by the Kinkles could be a clue to how the worlds could collide. Were the deers on the Riverdale episode familiars? Will Farmer McGinty show up in Greendale on season two?
6. Dr. Cerberus, Hilda's maybe-boyfriend, is a demon.
How else would you explain his eyes changing color to a yellow-ish hue after he kisses Hilda on the season one finale?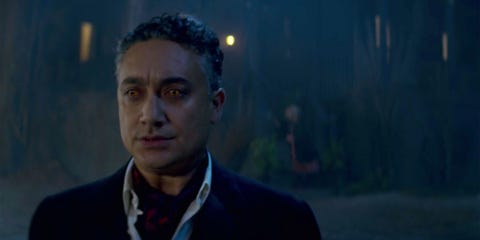 One could also concentrate on his name, "Cerberus," which refers to the three-headed dog that guards the underworld in Greek mythology. This Reddit thread has more theories on what he really is, but my money's on demon or a werewolf.
7. Zelda knows more about Edward and Diana Spellman's deaths than she lets on.
Kind of obvious, but throughout season one, Zelda always looked suspicious when the topic turned to Edward and Diana. Also, in the Christmas special, there's a bit of tension when Zelda tells Sabrina she would've helped her with her séance to communicate with her mom. "Of course, Diana was my brother's wife. Honestly, sometimes I don't think you understand the meaning of family at all." Sister-in-law and "my brother's wife" are the same number of words, so why did Zelda choose such a formal label? Something. Is. Up.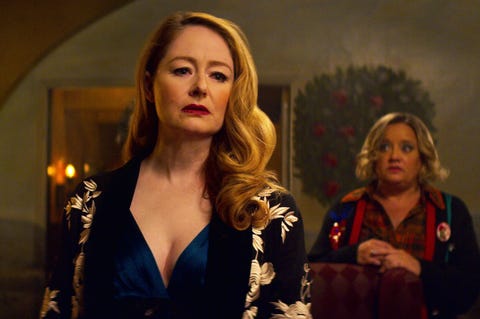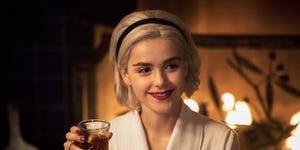 Source: Read Full Article