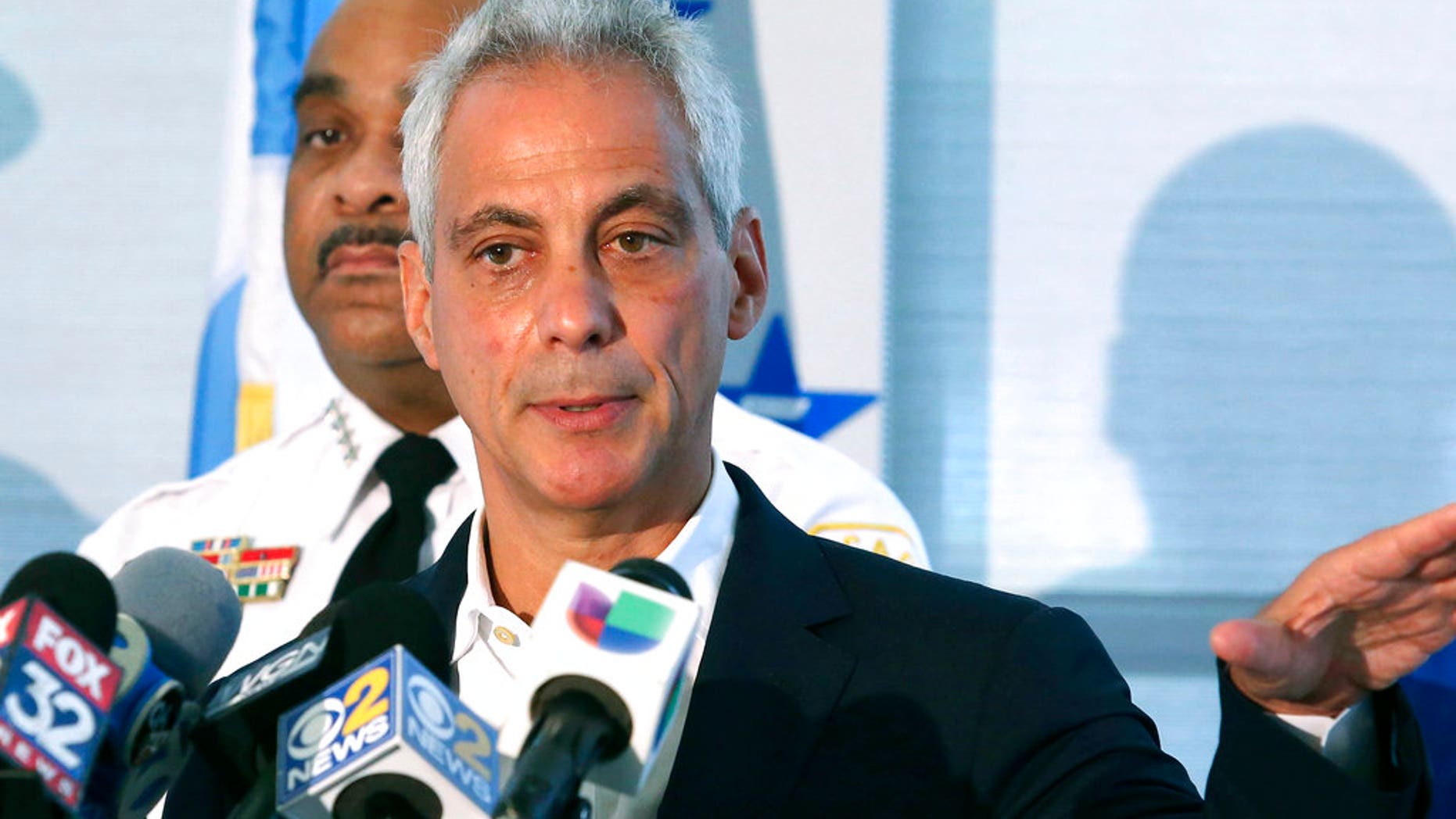 FILE: Chicago Mayor Rahm Emanuel speaks at a news conference in Chicago.
(Associated Press)
Chicago Mayor Rahm Emanuel on Wednesday proposed a solution to clamp down on the city's $28 billion in public-pension debt: legalize marijuana and open a city-owned casino.
Emanuel called Chicago's pension crisis a "flashing yellow light of uncertainty" and instability for the city. The lame-duck mayor outlined steps the city has taken in recent years to stabilize the funds, including raising taxes.
RAHM EMANUEL ISN'T BETTING ON BETO: 'YOU DON'T PROMOTE A LOSER'
"For the last seven-and-a-half years, we have worked together to stabilize, strengthen and secure Chicago's pension funds, from our city's pension funds, to our schools, to all of our sister agencies," Emanuel said during a speech at City Hall. "Together, we have been addressing this challenge honestly and forthrightly."
But Wednesday's proposal comes as Emanuel prepares to leave in May, and with the city's required annual pension payments set to balloon over the next five years, the Chicago Tribune reported.
CHICAGO MAYOR RAHM EMANUEL ANNOUNCES HE WILL NOT SEEK RE-ELECTION
Emanuel called for issuing up to $10 billion in pension obligation bonds and changing the state constitution to allow a reduction in public worker's public workers' pension benefits — an idea ripped by his successors, according to the Tribune.
Democratic Gov.-elect J.B. Pritzker has said he supports legalizing marijuana and is open to expanding gambling but opposes Emanuel's state amendment.
"My commitment is to pay the pensions that are owed to people," Pritzker said. "I really believe strongly that when you're promised something, you've saved properly in order to pair it up with what whatever you've been promised in a pension, that you ought to get that pension and not have it cut."
Laurence Msall, president of the Civic Federation, dismissed Emanuel's "legal weed and casino" idea, as unreliable sources, but acknowledged his efforts to address the problem.
"Gambling is not a reliable source, marijuana is not a reliable source, but it really makes the point that all available revenue is going to be needed to fix the pensions if you don't take real action on it," Msall said.
Emanuel's proposals would ultimately need approval from state lawmakers in Springfield before being implemented.
The Associated Press contributed to this report.
Source: Read Full Article