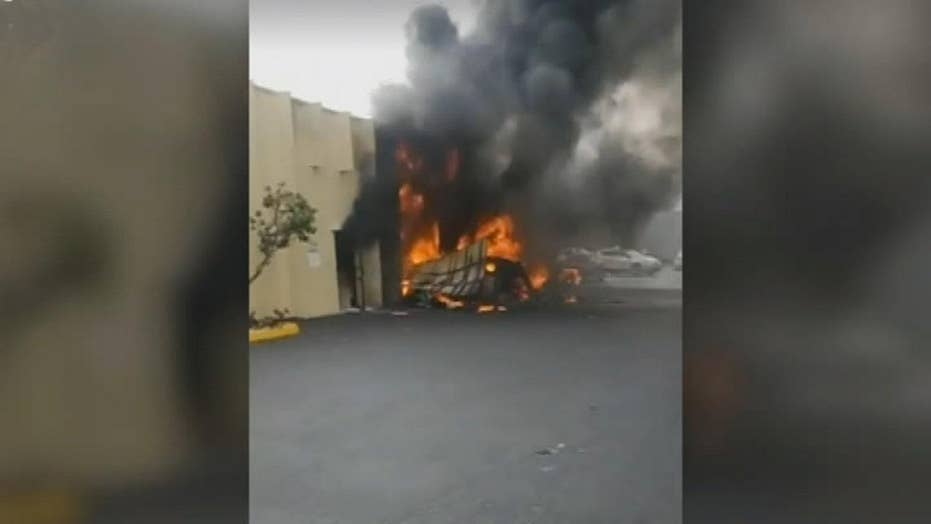 Plane crash sparks fire leaving two dead in Florida
Raw video: Small plane crashes through the roof of an industrial building in Fort Lauderdale sparking a fire and leaving two dead.
A small plane is seen rapidly skidding along the ground and slamming into the side of a Florida building on Saturday, immediately exploding into flames and sending those inside an autistic children's therapy center running for their lives, newly released video shows.
Eladio Marquez, a New Jersey-native who was piloting the Cessna 335, and his passenger, who was not immediately identified, were killed in the crash at the Executive Office Park in Fort Lauderdale, ABC reported.
BODY FOUND ON COSTA RICAN PROPERTY IS MISSING FLORIDA WOMAN, SECURITY GUARD DETAINED IN HER MURDER: OFFICIALS
Battalion Chief Steven Gollan, a spokesman for the Fort Lauderdale Fire-Rescue Department, told WPLG-TV that eight teachers and five children were in the building when the plane crashed. He said one of the teachers suffered minor injuries as she ushered children from the building, but she was not hospitalized.
Marquez's widow, Belkis Marquez, told ABC she was heartbroken. She said her husband loved to fly his plane and she's not sure why the aircraft crashed. The Broward County Crime Lab is testing the remains of the two men discovered in the plane as they search for the cause of the calamity, the South Florida Sun-Sentinel reported.
CHINESE MAN ARRESTED FOR TAKING PICTURES OF US NAVY BASE IN FLORIDA, OFFICIALS SAY
The National Transportation Safety Board is also investigating the incident, and officials are looking into whether the aircraft had maintenance work recently, CBS Miami reported.
The Associated Press contributed to this report.
Source: Read Full Article