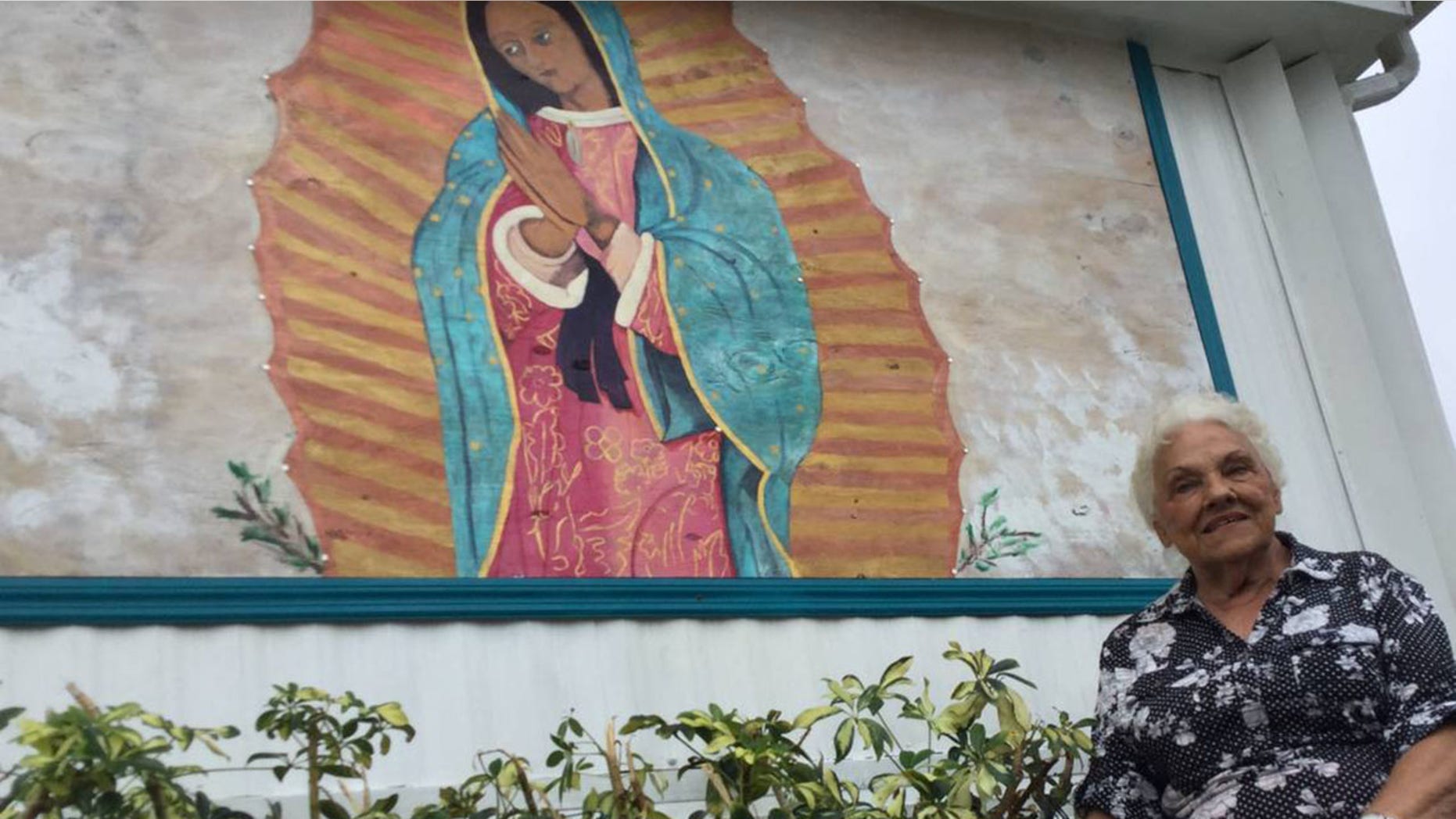 Millie Francis, 85, says she was inspired to paint a picture of the Virgin Mary on a piece of plywood that replaced a window she wanted removed from her mobile home in Bradenton, Florida.
(Mark Young/Bradenton Herald)
An 85-year-old Florida woman reportedly says the lawyers representing her trailer park will "have to kill me first" before she lets them remove an illustration of the Virgin Mary that's painted on the side of her mobile home.
Millie Francis painted an image of Our Lady of Guadalupe – one of Mary's many Catholic titles and the patroness of Mexico – on a piece of plywood on the front of her mobile home in the Bradenton Tropical Palms trailer park.
The property manager for Vanguard Property Management demanded Francis remove the painting – to which she responded, "They'll have to kill me first," the Bradenton Herald reported.
"You're not going to tell this old lady what to do," Francis told the newspaper. "This is America. As long as I have two arms and two legs, I'm going to do it."
The illustration of Mary is on a piece of plywood placed where Francis' front window used to be. She said the window was removed in April – with permission from the park – after Francis had persistent issues with security personnel shining flashlights into her home late at night.
"I didn't know what I wanted to do in that space," Francis said. "I was at church during Mass just before communion. To be honest, I wasn't concentrating much on mass because I was preoccupied with 'What am I going to do with this board?' I said, 'Please dear Lord, help me decide on what I want to do.'"
She added: "I don't want to say I had a vision or anything like that, but I felt enlightened and received the inspiration from our Lady of Guadalupe to paint her image. So I promised that I would."
Francis claims it was only when the painting was finished in late October that she was told to remove it.
Janet Nowakowski, the property manager for Vanguard Property Management, told the Herald that Francis did not get permission for the painting through the park's architectural review committee, though Francis did get permission to remove the window.
She said Francis had been given until Oct. 31 to complete the window replacement but the project wasn't completed by then and it was requested Francis remove the piece of plywood.
Nowakowski said, per park rules, Francis must resubmit her project to the architectural review committee for approval or remove the painting.
"That's where we stand," she told the newspaper last month. "She exceeded the time she was given to complete it and it has to go back before the committee. She has not submitted that request."
Attorneys for the park sent Francis a letter Nov. 9 saying she had 30 days to remove the painting or face a lawsuit.
With the deadline fast approaching, Francis has remained defiant, telling the Bradenton Herald on Tuesday her painting is "not going anywhere."
The 85-year-old claims she is being discriminated against because of her Catholic faith and says her neighbors have various decorations on their homes that they have not been asked to remove.
"If I have to go to court, then I have to go," she said. "I don't know what to do. I can't take this anymore but I can't see it coming down. It's not hurting anyone. They don't have to look at it if they don't like it so I don't understand why they are against me, but it's going to stay."
Vanguard Property Management did not immediately return a request for comment Wednesday.
Source: Read Full Article