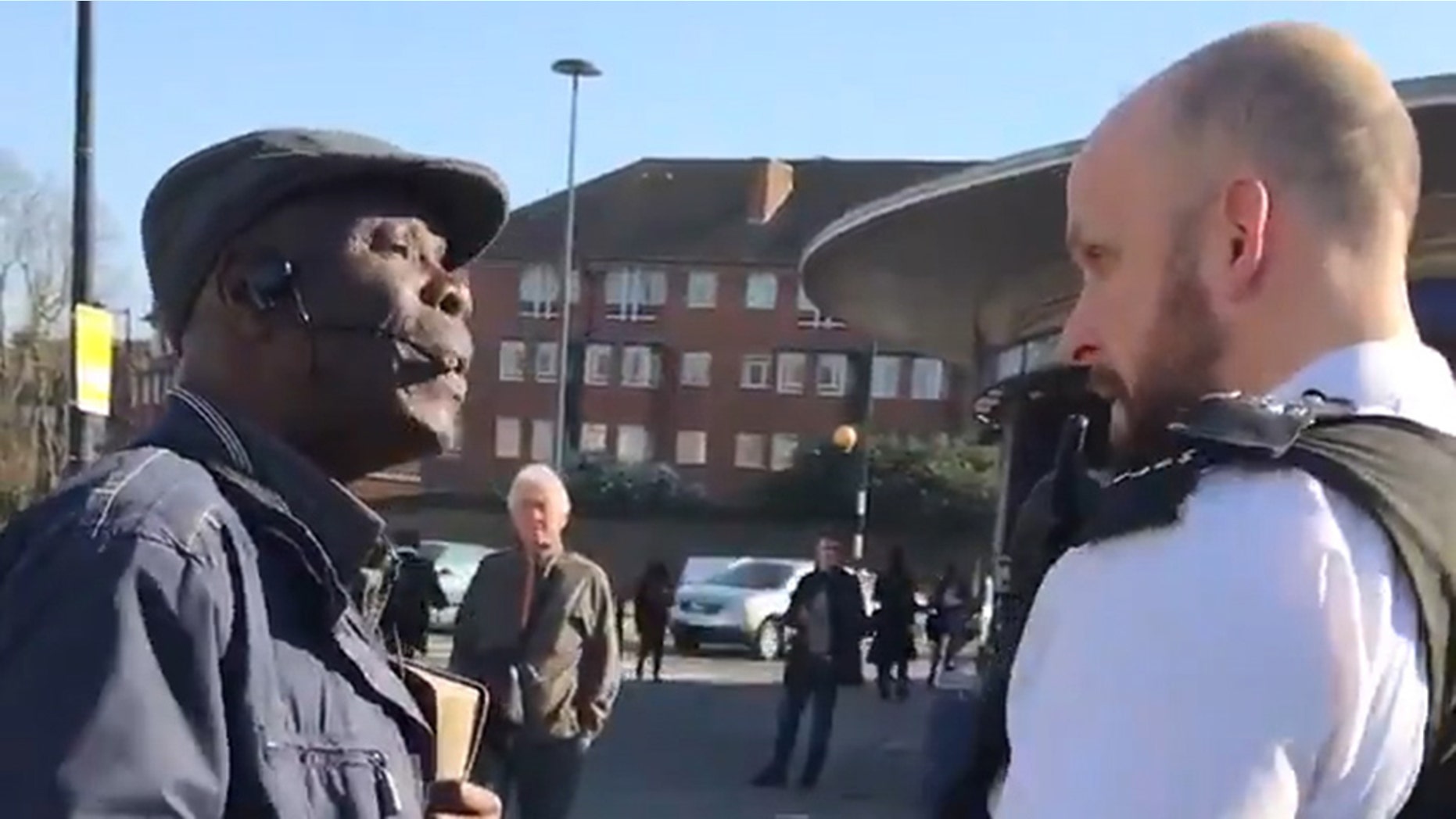 VIDEO STILLS – This is the moment a Christian preacher was handcuffed and arrested outside a London underground station after complaints he was "Islamophibic."
(VIRAL PRESS)
A street preacher outside a London subway station was arrested in a viral video for "breach of peace," "disturbing people's days," and accused of racism and "Islamophobia," according to officers caught on camera and a bystander.
"A Christian preacher this afternoon was arrested at Southgate station London N14 for preaching about Jesus," Eye on Antisemitism, a UK-based group that reports Anti-semitic incidents, wrote on Twitter about an incident that occurred Saturday.
PORN STAR-TURNED-PASTOR SAYS SHE WANTS 'EVERYONE TO EXPERIENCE THE LOVE OF GOD'
"I can be arrested if you want," the street preacher of African origin said at the beginning of the video. "I will not go away because I need to tell them the truth because Jesus is the only way, the truth, and the life."
"I appreciate that, but nobody wants to listen to that," the officer said. "They want you to go away."
Two officers then handcuffed the man as he protested: "No, no, no. Don't take my Bible!"
One of the officers reportedly replied: "You should have thought about that before being racist."
'WHEN GOD BECOMES REAL': BETHEL PASTOR OPENS UP AFTER BEING HOSPITALIZED FOR NERVOUS BREAKDOWN
Ambrosine Shitrit, the founder of Eye on Antisemitism, who recorded the video, said there was nobody upset or interested in the preacher, but added that when the preacher asked the police why he was being arrested, they allegedly replied: "For Islamophobia."
"There was no racism prior to that. There was no racism after that. There was no Islamophobia," Shitrit said.
A Metropolitan Police spokesman told the Daily Mail the preacher was later released without charge.
CLICK HERE TO GET THE FOX NEWS APP
"Police were called to Southgate Underground Station at 1.52pm on Saturday, 23rd February in response to concerns raised about a man's behavior. An arrest was made to prevent a breach of the peace. The man was then de-arrested and no further action was necessary."
A legal team at Christian Concern, who has represented street preachers before, say they are working with the preacher, identified as Preacher Olu.
"After being unnecessarily arrested, he was dropped off in an unfamiliar suburb without enough money to get home," Christian Concern wrote. "Thankfully a kind member of the public gave him some money, but what did the preacher do next? He went straight back to Southgate tube station and continued to preach the gospel of Jesus Christ that same evening."
Church of England priest, Father Matthew Cashmore, called the arrest "deeply, deeply concerning" and said the officers should be "ashamed of themselves."
'THE SEND' MARKS START OF 'GREATEST JESUS MOVEMENT,' OVER 40,000 CHRISTIANS GATHER, COMMIT TO MISSIONS
"The way his Bible was removed is horrendous," Cashmore said.
Source: Read Full Article