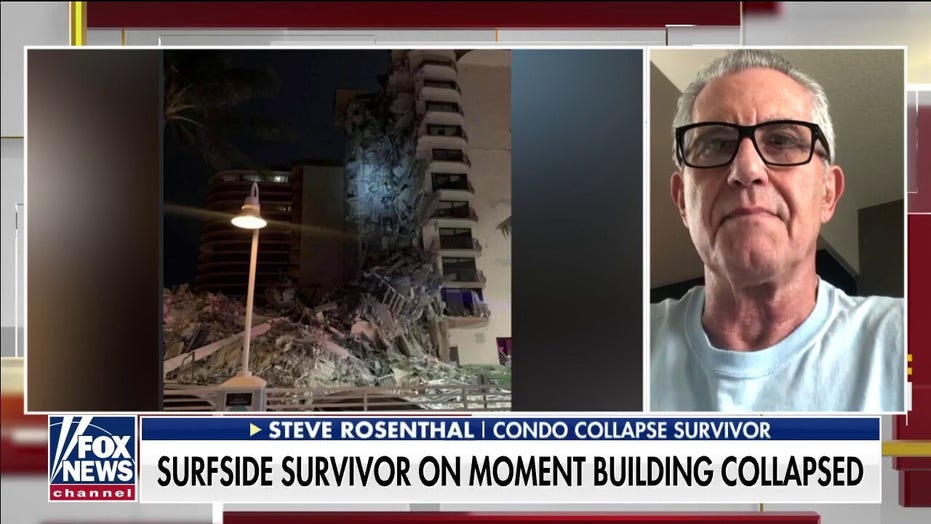 FL condo collapse survivor: It's a 'miracle' that I escaped
Steve Rosenthal, a Surfside condo collapse survivor, tells 'The Faulkner Focus' he thought it was a dream or an earthquake when the building disintegrated.
A survivor of the Florida condominium collapse that occurred last Thursday is speaking out about his near-death experience.
Steve Rosenthal was rescued from the Champlain Towers South condo shortly after the building disintegrated and said it was a "miracle" that he was able to escape.
Rosenthal mentioned it was 1:30 am on Thursday and he heard a loud thunder sound. The Florida resident added he thought it was a dream and then felt the room starting to shake.
"…dust starts falling from the ceiling, hitting my face," Rosenthal told "The Faulkner Focus." "I'm going, OK. It's an earthquake, one in ten thousand year earthquake that's hitting Florida."
The 20-year Champlain Towers resident added he was aware that the building required some work and needed to be upgraded, but had no idea the severity of the situation.
Meanwhile, the Surfside survivor is the first individual to sue the Champlain Towers and mentioned he suffered from bruises on his arms while attempting to escape the crumbling building.
At least 11 people have died and more than 150 are still unaccounted for after the building collapsed in Surfside.
CLICK HERE TO GET THE FOX NEWS APP
"Another person that I know happened to just get out a minute before that. There are a few people that survived just by chance and just by luck," Rosenthal concluded. "If you were sleeping, if you weren't up, you're gone."
Source: Read Full Article