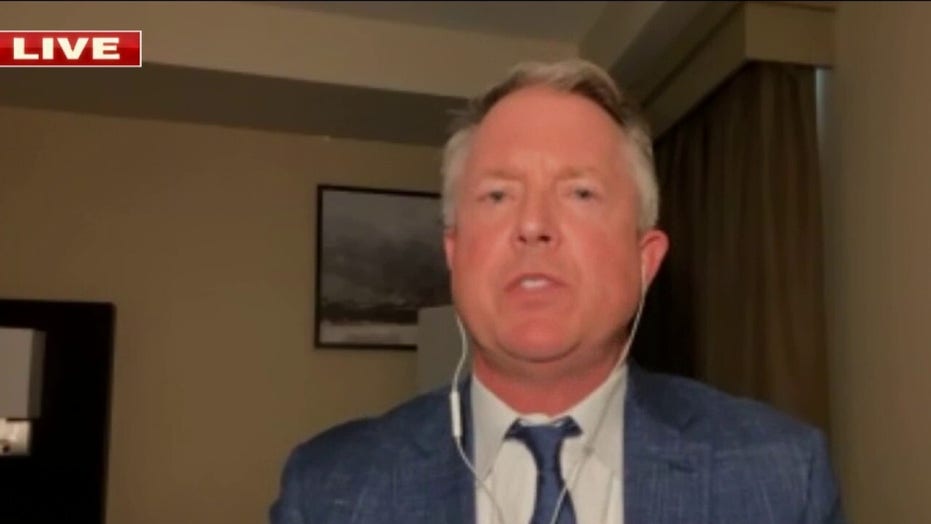 Sen. Roger Marshall: 'It's time to stand up to Russia'
Kansas Republican blasts the Biden-Putin summit on 'Your World'
Russian President Vladimir Putin said Wednesday that an incident involving a British destroyer in the Black Sea couldn't have triggered a global conflict even if Russia had sunk the warship because the West knows it can't win such a war.
The tough statement appeared to indicate his resolve to raise the stakes should a similar incident happen again.
Speaking in a marathon call-in show, Putin also revealed that he received the domestically produced Sputnik V coronavirus vaccine and urged Russians to get vaccinated as the country battles a devastating surge of cases and deaths amid widespread hesitancy to get the shot.
Britain, which like most other nations didn't recognize Russia's 2014 annexation of Crimea, insisted the Defender wasn't fired upon and said it was sailing in Ukrainian waters. "HMS Defender was conducting innocent passage through Ukrainian territorial waters in accordance with international law," Britain's Defense Ministry said Wednesday.
The U.S. Defense Department had no immediate comment on Putin's claim that a long-range U.S. reconnaissance aircraft that took off from the Greek island of Crete was operating in concert with the British ship.
Asked if the events could have triggered a global war, Putin responded that the West wouldn't risk a full-scale conflict.
"Even if we had sunk that ship, it would be hard to imagine that it would put the world on the brink of World War III because those who do it know that they can't emerge as winners in that war, and it's very important," Putin said. The statement followed Russian officials' warning that if a Western warship enters the waters again, the military could fire on it.
Putin charged that the U.S. aircraft's apparent mission was to monitor the Russian military's response to the British destroyer.
"It was clearly a provocation, a complex one involving not only the British but also the Americans," he said, adding that Moscow was aware of the U.S. intentions and responded accordingly to avoid revealing sensitive data.
The Russian leader lamented that the move closely followed his summit with U.S. President Joe Biden in Geneva this month.
"The world is undergoing a radical change," he said. "Our U.S. partners realize that, and that's why the Geneva meeting took place. But on the other hand, they are trying to secure their monopolist stance, resulting in threats and destructive action such as drills, provocations and sanctions."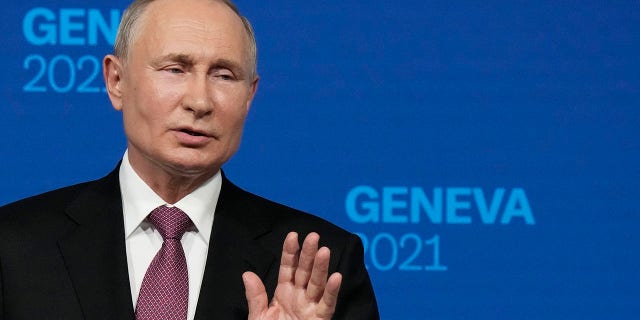 Russian President Vladimir Putin speaks during a news conference after his meeting with U.S President Joe Biden at the 'Villa la Grange' in Geneva, Switzerland in Geneva, Switzerland, Wednesday, June 16, 2021. (AP Photo/Alexander Zemlianichenko, Pool)
Even though the West doesn't recognize Crimea as part of Russia, Putin said the naval incident took the controversy to a new level.
"They don't recognize something – OK, they can keep refusing to recognize it," he said. "But why conduct such provocations?"
Earlier this year, Russia bolstered its forces near Ukraine and warned that Moscow could intervene if Kiev used force to reclaim areas in the east controlled by Russia-backed separatists since a conflict there erupted in 2014. Moscow later pulled back some troops, but Ukrainian authorities said the bulk of them remain close to the border.
Amid this hesitancy, Putin revealed he received the Sputnik V vaccine. Putin got his first shot in late March out of the public eye and has remained tight-lipped about which vaccine he chose.
On other issues, Putin said Russia has no intention of banning Western social media platforms but emphasized that the government merely wants them to abide by the law, promptly remove inappropriate content and open offices in Russia.
"We tell them: 'You're spreading child pornography, or instructions on (how to commit) suicide, or how to create Molotov cocktails. … You must take it down,' and they simply don't listen, don't want to listen to what we tell them," Putin said. "But this is wrong."
Source: Read Full Article