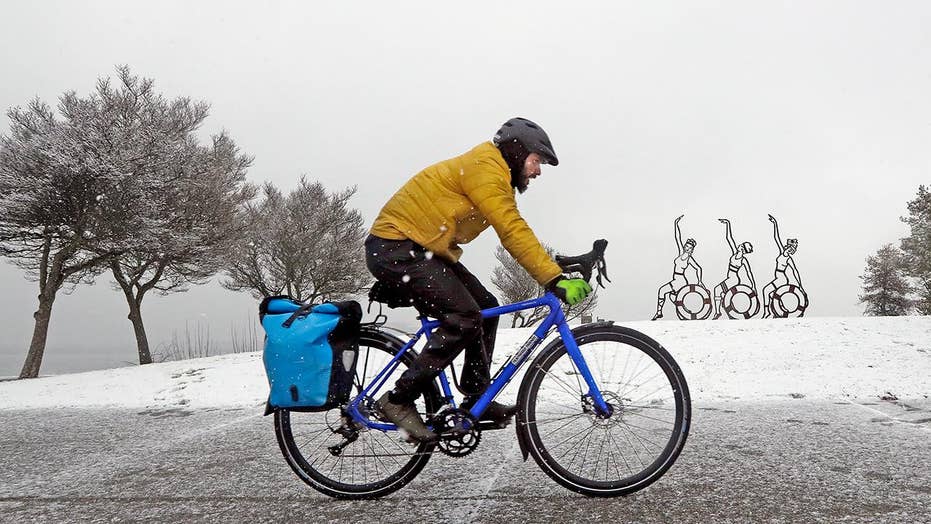 Series of winter snowstorms slam Seattle
Snow brings transportation disruptions to the Seattle area.
As residents in Seattle and across the Pacific Northwest dig out from the most snow in decades, a new round of storms is set to bring an additional punch of winter beginning Monday.
The National Weather Service said in its forecast discussion that a series of winter storms will bring "widespread snowfall" to much of the region throughout the week.
"Given the presence of below normal temperatures across this region already, snow levels remain low with accumulating snowfall likely near or just above sea level for western Washington and Oregon," the NWS said. "The most significant snowfall is expected across the higher terrain of the Washington and Oregon Cascades, where 1 to 3 feet of snow is likely."
POLAR VORTEX 'BOILING WATER CHALLENGE' SENDS 8 PEOPLE TO HOSPITAL IN CHICAGO-AREA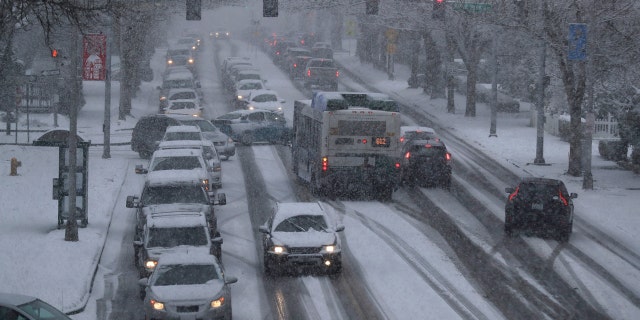 Cars and a bus make their way in the snow on Capitol Way, Friday, Feb. 8, 2019, in Olympia, Wash.
(AP Photo/Ted S. Warren)
The storms have delivered Seattle the most snow in February in 70 years (10.6. inches), while Sea-Tac airport reported a new monthly February record, the NWS Seattle office said on Twitter.
A winter storm watch was in effect from Monday morning through Tuesday afternoon, with between 6 and 10 inches of snow expected to fall throughout the Seattle area, Q13 News reported.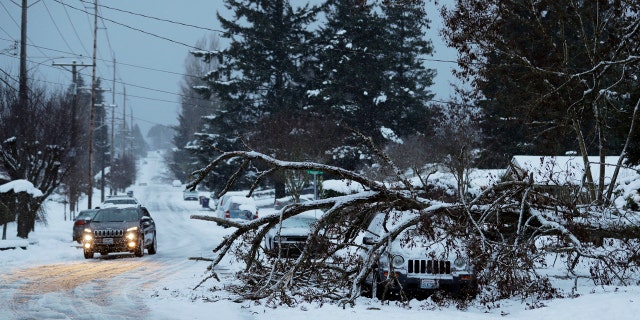 A tree rests on a vehicle, Sunday, Feb. 10, 2019, on a residential street in Tacoma, Wash.
(AP Photo/Ted S. Warren)
Seattle schools were closed Monday, along with other area schools in anticipating of the wintry blast.
WINTER STORMS CLOBBER PARTS OF PACIFIC NORTHWEST, CALIFORNIA AND MIDWEST
Officials from the Washington Department of Transportation told the Seattle Times that drivers have hit four snowplows in recent days, putting them out of commission. Drivers are also being warned to drive as if the roads are covered with ice because of hidden slick spots.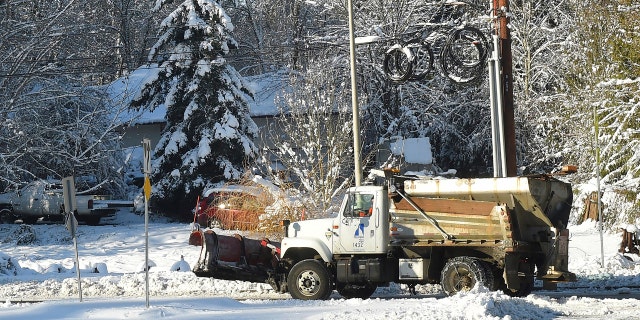 A City of Olympia sanding truck makes it way up a street on Sunday, Feb. 10, 2019, in Olympia, Wash.
(Steve Bloom/The Olympian via AP)
"We've had all hands on deck for days now working 12-hour shifts," WSDOT spokeswoman Lisa Van Cise told the newspaper. "I was born and raised here; we don't get these kinds of systems often. This is one for the books."
CLICK HERE FOR THE FOX NEWS APP
Besides the snow, the region also has been blanketed by bitterly cold temperatures. Low temperatures dipped to 6 degrees in Arlington, Washington. The weather service said that was colder than the Arctic coast or North Slope of Alaska.
The Associated Press contributed to this report.
Source: Read Full Article