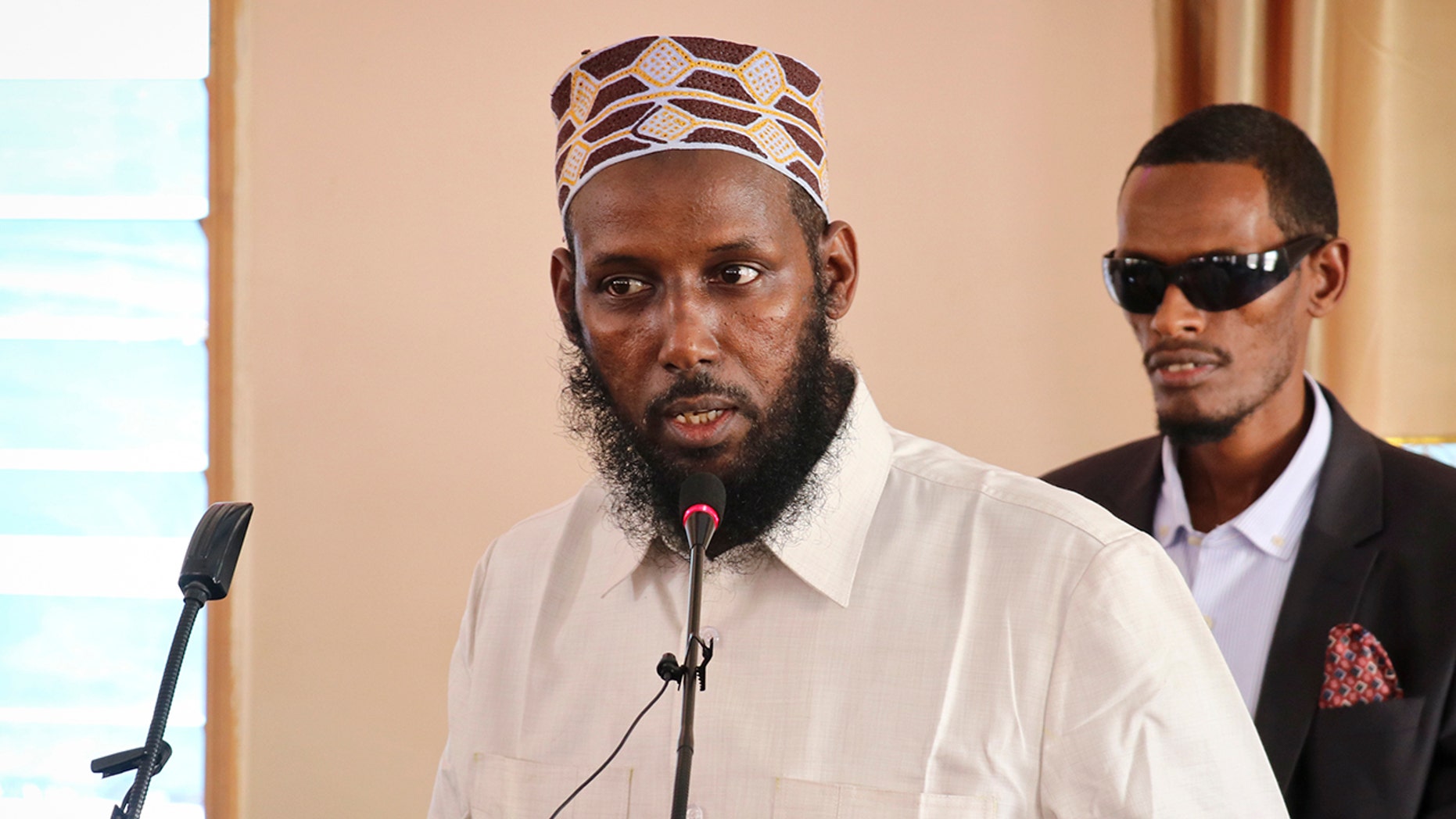 Mukhtar Robow, who was once deputy leader of Africa's deadliest Islamic extremist group the al-Qaida-linked al-Shabab, was arrested and beaten, sparking violent protests that left at least four dead. (AP Photo/File)
A former Islamist leader of Somalia's al-Shabab terror group who's now running for a regional presidency was arrested and beaten Thursday, prompting protests and violent scuffles between his supporters and security forces, his spokesman and officials said.
Sheikh Mukhtar Robow, who defected last year from Africa's deadliest extremist group, was arrested by Ethiopian troops that are part of the African Union forces supporting the Somali government, officials said.
Robow was flown from Baidoa to Somalia's capital, Mogadishu, for a meeting at the residence of the regional president of Southwest state. Upon arrival, Robow was arrested.
The reason for the arrest is unclear, but it immediately prompted violence from his supporters.
Gunfire erupted in Baidoa as Robow's supporters protested his arrest, with armed militias thought to be linked to Robow seen on streets in the town, said police Col. Ahmed Abdi.
At least four people were killed, including an Ethiopian soldier, in the clashes between troops and armed men thought to be Robow's supporters, said Abdi.
"There are casualties. We see Ethiopian tanks being moved into the town. Now there is sporadic gunfire. Tension is very high now and all shops are closed," Ahmed Abdullahi, a Baidoa shopkeeper, told Reuters.
Robow is running to be regional president of Southwest state in elections scheduled for Dec. 19.
The lanky, bearded former militant had a $5 million bounty last year on his head, offered by the U.S. government. But the reward was dropped before he defected from al-Shabab. Although he's blamed for directing much of the rebels' violence, he is generally popular in the Southwest region.
Robow's controversial campaign exposed the rift between Somalia's federal government, based in Mogadishu, and the regional government.
Worried about Robow's popularity, he said the federal government sent at least one high-level official to try to persuade him to step aside.
"I was asked to relinquish my candidacy but I'm telling you that…I will be running for president," Robow told supporters in October. "With the help of God, we will win and peace will win."
The U.S. military's Africa command said it is aware of the reports of Robow's arrest.
Somalia has been trying to claw its way out of the embers of a civil war that engulfed it in 1991, when clan warlords overthrew a dictator and then turned on each other.
Al Shabaab has sought for over a decade to topple the weak central government in Mogadishu and implement its strict version of Islamic law. It was driven out of the capital in 2011 but retains a strong presence in some areas, including South West.
The Associated Press and Reuters contributed to this report,
Source: Read Full Article