The 29-year-old was about 2,000 miles west of Cape Horn in the southern Pacific Ocean when she lost her mast during a "ferocious" storm.
She was lying in fourth place in the Golden Globe Race when 60-knot winds and "massive seas" damaged her Rustler 36 yacht DHL Starlight on Wednesday.
She said she was "thrown across the cabin and was knocked out for a while".
Goodall, from Falmouth in Cornwall, tweeted the boat was "unbelievably roly" and she was "totally and utterly gutted".
She later added: "This motion is just horrible! Clinging on in my bunk."
"In need of a good cuppa tea! But sadly no cooker."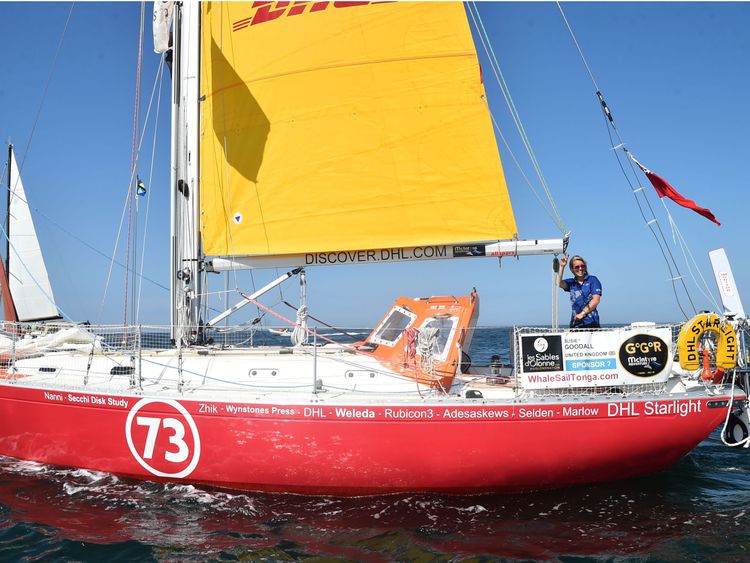 A distress signal from her yacht was first picked up by the Falmouth coastguard.
They alerted race control and the Chilean maritime search and rescue authorities who are responsible for that sector of the Pacific.
The authorities have contacted a ship 480 miles south-west of Goodall's position and asked for help. The crew expects to reach the area on Friday.
Goodall has been contacted on her emergency satellite phone by race officials who said she was "safe and secure onboard".
She said: "I have been dismasted. Thought I had holed the hull because the boat filled with water, but the hull is not holed. The hull is OK.
"The boat is destroyed. I can't make up a jury rig. The only thing left is the hull and deck which remain intact.
"We were pitchpoled [rolled end over end] and I was thrown across the cabin and knocked out for a while."
Goodall is the youngest and only female competitor taking part in the non-stop around the world yacht race, which sees competitors sail single-handedly, abandoning any form of modern technology or satellite navigation equipment.
Competitors set off from France on 1 July and it is expected to take around nine months to complete.
The last time the race took place was in 1968. Sir Robin Knox Johnston was the only person to finish back then.
Eighteen sailors took part in this year's 30,000-mile race.
But more than half of the competitors have now dropped out, with many being dismasted.
Source: Read Full Article