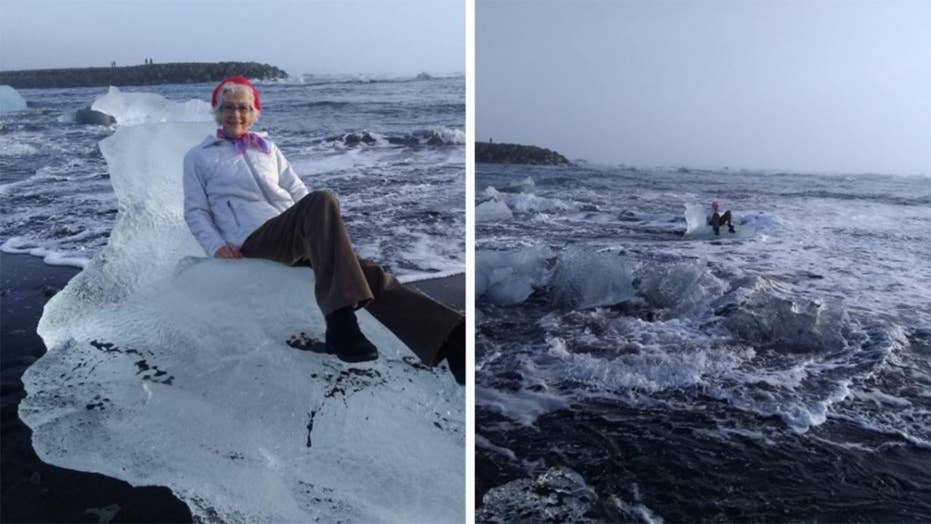 Texas grandmother drifts out to sea after posing on 'iceberg throne'
A Texas grandmother was rescued after she posed on an 'iceberg throne' that drifted out to sea during their Iceland vacation.
A Texas grandmother got to be the queen of the oceans for a short time when an "iceberg throne" she sat on to pose for a picture drifted off to open water while on vacation in Iceland.
Judith Streng and her son Rob were traveling in Iceland recently when they stopped at Diamond Beach in Jökulsárlón for a great photo op on what looked like a throne straight out of Disney's "Frozen."
"It was shaped like an easy place to sit. You can tell by looking at the shape of it, and I thought well it looks like fun," Streng told ABC News. "When I got on it, it started to totter and a wave was coming in."
She added: "A very large wave came in and kind of made the throne kind of rock, and I could tell that I was slipping off."
COUPLE WHO MISSED ROYAL CARIBBEAN CRUISE IN VIRAL VIDEO WAS CELEBRATING HONEYMOON
Photos of the ordeal went viral after Streng's granddaughter Catherine shared screenshots of the hilarious texts from her father on Twitter.
"Lost her kingdom when she drifted out to see! (sic)," one of the texts said. "No joke. A coast guard rescuer had to save her and bring her back to shore!"
The 77-year-old from Flower Mound, Texas, told ABC News that she thought she was safe when she sat down and that she had seen several people sit on it before she had her try.
"I don't weigh very much so it was a little easier to float off I guess," Streng said. "I've always wanted to be queen … that was my chance."
CLICK HERE TO GET THE FOX NEWS APP
A bystander, who happened to be a boat captain trained in water rescue, quickly helped to bring the grandmother back to shore.
Source: Read Full Article